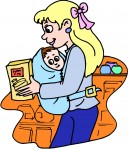 This mystery book theme features stay-at-home moms and/or housewives. I'm not sure if the term "housewife" is "P.C."…. but it's a term I grew up with and don't find offensive… so I hope I don't offend anyone…. since that is what I think of myself as being these days. With both of my children grown up now… I can hardly call myself a stay-at-home mom ….. They don't require me to lovingly adhere band-aids anymore!
Stay-at-Home Moms:
Nancy Atherton: Aunt Dimity Mystery Series…
Mollie Cox Bryan: Cumberland Creek Mystery Series has a stay-at-home scrap booking mom as its sleuth.
Jill Churchill: The Jane Jeffry Mystery Series features a Chicago housewife who along with having three children, also has time to sleuth.
Susan Rogers Cooper: The E. J. Pugh Mystery Series features a romance novelist housewife who solves crimes when not taking care of her family and home.
Anne George: The Southern Sisters Mystery Series is set in Alabama and features "Mouse," the housewife part of the sister duo and her wildly different lovable sister "Sister".
Dorothy Gilman: The Mrs. Pollifax Mystery Series features a "mature" woman who, upon finding that she  is simply tired of the types of activities that are relegated to women of her age, becomes a globe-trotting spy.
Heather Horrocks: The Bad Mothers Club Mystery Series stars a stay-at-home mom in Denver, Colorado.
Josi S. Kilpack: The Culinary Mystery Series features a stay-at-home mom/sleuth. This series is also on the "No Profanity" list…
Leslie Meier: The Lucy Stone Mysteries Series is a series which features a housewife, mother of three, along with different holidays… Christmas, Halloween, Fourth of July, etc.
Diana Orgain: Maternal Instincts Mystery Series features a new mom/sleuth…
Emilie Richards: Ministry is Murder Mystery Series features the wife of a minister…
Sara Rosett: The Mom Zone Mystery Series has an Air Force mom as the main sleuth…
Ayelet Waldman: The Mommy Track Mystery Series features a lawyer who becomes a stay-at-home mom after the birth of her daughter, and who is able to put her legal background to work while solving crimes.
Valerie Wolzien: The Susie Henshaw Mystery Series is full of crimes that need to be solved during different holiday seasons.
Motherhood is Murder: Four Mysteries by Mary Daheim, Carolyn Hart, Jane Isenberg, & Shirley Rousseau Murphy
Stay-at-Home Dads:
Jeffrey Allen: Stay at Home Dad Mystery Series
Stay-at-Home Dad: Jeffrey Cohen (aka E. J. Copperman) writes the Aaron Tucker Mystery Series which features a Stay-at-Home Dad as its sleuth.
PS >>> I just added a few more sleuths to this list on my Mothers as Sleuths. They clearly overlap, although Kate Borden, Diane Mott Davidson, and Joan Hess all have working-outside-the-home mothers as their sleuths…
♦To access more Cozy Mysteries by Theme click on this link.♦