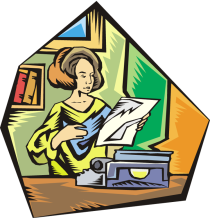 Two days ago Linda MH posted a comment that might have some of us wondering "What's going on?"
Linda:
I was just reading about the shakeup that took place at Berkley/Penguin/NAL publishing company. Seems that mass market paperback books (our beloved cozies!) have taken a real hit. A lot of authors have been told the company won't continue to publish their books. (Examples: Melissa Bourbon, Janet Bolin, & Rosie Genova, and one site mentioned Krista Davis–to name a few.) I'm hoping some of these authors (if they own the rights to their series) will continue to write books and self-publish. I read LOTS of books on my iPad using the Kindle app, but I still buy the majority of my cozies in the paper format. I'm really sad that some of these series will just end. Do you have any information on this?
First off, here's some terrific news:
Krista Davis >>> Neither of her two series (Domestic Diva Mystery Series and Paws & Claws Mystery Series) have been cancelled! So, let's squelch those bad thoughts!
As you may remember, I already told you about this bad news: Avery Aames' Cheese Shop Mystery Series and Julie Hyzy's White House Chef Mystery Series have been cancelled. Now for some more really bad Cozy Mystery news:
Janet Bolin >>> Bad news in Threadville! Unfortunately, the Threadville Mystery Series has been cancelled. However, Janet has some good tidings: "And those poor folks in Threadville can finally settle down and live their lives without a murder to solve every year." Even better, at the end of her letter she told me that she is still writing. So we'll have to watch for some new Cozies from her!
Melissa Bourbon >>> Her publisher has decided to end the series, however, the good news is that she has a new contract with another company and will be writing a new Cozy series. And, she may even self-publish a 7th book in her Magical Dressmaking series!
Peg Cochran is currently writing the Cranberry Cove Mystery Series, the Farmer's Daughter Mystery Series, and the Lucille Mystery Series. Unfortunately she will no longer be writing either her Gourmet De-Lite series nor her Sweet Nothings Lingerie series (written as Meg London). So, although it's bad news for those two series, it's great news that she is now writing three Cozy Mystery series!
Barbara Early (aka Beverly Allen – Bridal Bouquet Shop Mystery Series) will be starting a new Cozy Mystery series soon. The Vintage Toy Shop Mystery Series will start with a Christmas Cozy called Death of a Toy Soldier.
Christina York has been writing as Christy Evans and Christy Fifield. As Christy Fifield she writes the Haunted Gift Shop Mystery Series, which although it has been cancelled, she owns the rights! So she will be writing more of the Haunted Gift Shop mysteries. Great news!
I have several other Cozy Mystery authors who I have "heard" have been cancelled, however, I want to verify it with them before I post the news. I hope to get back to you all shortly. (I normally don't post information about authors whose series have been dropped/cancelled by their publishers until I verify the information.)