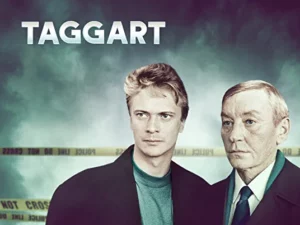 How did we miss this police procedural show?! My husband and I have been loving Taggart! I must warn you, though: it is not a Cozy Mystery series. The main character, Detective Chief Inspector Taggart, is quite acerbic and has a wickedly dry sense of humor. He does not "suffer fools lightly".  Taggart ran from 1983 to 2010, so there are lots of shows to watch… which is great news for us! (Since this is a Scottish show, the accents can be pretty strong at times so you may need to use the subtitles.)
Mark McManus is absolutely terrific as Taggart. Actually, all of the acting is really good. The relationship between Taggart and his wife (beautifully played by Harriet Buchan) is of particular interest to me. His wife doesn't let the fact that she is wheelchair-bound stop her from having many outside interests/jobs – as well it shouldn't. She gets quite upset at how Taggart lives for his job and doesn't seem to enjoy anything other than excelling as a detective. (At the beginning of the series Taggart boasts about never living/visiting anywhere outside of Glasgow – and he is not a young man!)
As I mentioned at the beginning of this entry, this series is not Cozy! It is set during the time the shows were produced – although watching today makes them seem "historical".
The shows are very well-written – the plots make sense. The women detectives don't chase down suspects in their stilettoes (I'm guessing a lot of you are tired of me saying that!) The actors (mostly) look like normal people… they don't all look like young models. (Why do shows made in the US have such unrealistic looking characters?)
I definitely recommend the series to those of you who enjoy gritty police procedurals. Taggart is available on BritBox – but be prepared to use subtitles.
Also, if you're interested in taking a look at some other good mystery shows, make sure to go to my Cozy Mystery TV and Movies page.