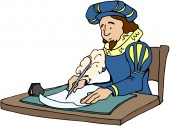 I was just re-reading all of your comments about an author killing off the main sleuth because she/he thought the sleuth is boring. (My last entry.) It looks like the definite consensus is "No! Don't do it!" Most of us seem to feel the same way about taking our sleuths away: One of the things we enjoy about our Cozy Mystery series are the characters and their development. Killing the sleuth would be a development we would rather avoid, at least until the author is pulling the plug on the series.
I totally agree with the sentiment that it would be almost disrespectful to the fans who actually like the series. What a way to repay them >>> bring on a sleuth who makes it more enjoyable to the author? What about the fans who bought your books? Perhaps the sleuth has gotten stale for the author, but as long as there continue to be fans who are buying the books, apparently the sleuth isn't boring to everyone – the fans.
Who would have thought that Sherlock Holmes would rise from the dead? As for Poirot, I knew that Christie got tired of him, but she continued because of her (or should I say "his"?) fans. 'Cause, let's face it, when we like a mystery series, we're not only fans of the author, but also of the sleuth.
I'm sure we all enjoy it when an author actually writes the last mystery in a series, and wraps it all up, so why not go that course? I get quite annoyed when I have stayed with a series through several books and then find out the publisher no longer wants to let the author continue with the series. I would always appreciate it if the publisher would let the author write one more mystery – just to wrap things up.
So, here's a helpful suggestion to authors with this predicament. Retire your sleuth gracefully, before your fans think your sleuth is just as boring as you think he/she is!