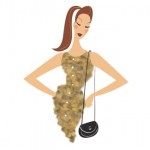 OK, I need some help! I just started a new-to-me author's series, which a lot of you have recommended. Between the comments posted here and the reviews online, I thought this author looks perfect for me!
Hmmm…
Granted, I only started my book two days ago, and have only read 20%, but I'm getting the opinion I just wouldn't like any of the characters enough to want to stick around for following books, let alone another percent of this book! We have talked about how the characters in the Cozy Mystery series we follow sort of become our friends. We want to read about them in the following books because we like them, we appreciate them, we're curious about what they are up to, ETC.
Don't get me wrong, I like the author's writing style… it's very easy to read, and flows pretty well. What I don't like are the characters' obsession with people's shapes. Look, I worry enough about my own shape! (Yes, I have several pounds to lose, and I'm talking closer to thirty than ten!) Am I really ready to start reading a series that has such an obsession with people's perfect bodies? Don't I worry enough about mine? Don't I read for enjoyment, not to subconsciously worry about an extra pound (or five!) I've put on in the last month?
And, it's not just the perfect physiques all these characters seem to have, but come on, what's with thinking slacks like Dockers are for slackers! The characters in the first 20% of this particular Cozy Mystery would definitely not want to associate with me! I am most comfortable in jeans… black or blue… love 'em!
The characters in this book belong to the Country Club Crowd, which there is nothing wrong with… But they are exclusively the Country Club set. So much so, that I wonder how the police detective is going to fit into this crowd>>> and there is no question in my mind, after having read only the first 20% of the book, that he will definitely become our sleuth's boyfriend… even though, of course, they have a hate/hate relationship now. (Any time a prominent police detective is good looking, let's just say, "same dance/same song".)
So, today I have been thinking about whether or not I should continue reading this book. I truly can't get over all of the characters coming right out of a high-end clothing store's catalog, but at the same time, since so many people think this author is a really good author, what's a girl to do?!?
(PS>>> It's at times like this that I am really sorry I have the "no bad comments about any author" policy. I'm chomping at the bit to tell you who I am talking about!)