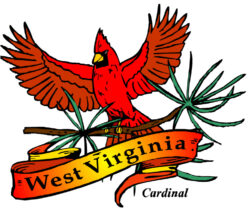 Mystery Books that Take Place in West Virginia…
Here are some West Virginia facts:
The capital and the largest city is Charleston.
State motto is "Mountaineers Are Always Free".
State nickname is the Mountain State.
State flower is the Rhododendron.
State bird is the Cardinal.
Virginia was named after Elizabeth I, the Virgin Queen.
Mystery authors who are found on the Cozy Mystery Site who feature West Virginia locations/settings in their books:
Christina Freeburn: Faith Hunter Scrap This Mystery Series – Faith Hunter was an Army Judge Advocate General (lawyer) who now runs a scrapbooking store in West Virginia.
Julie Anne Lindsey (aka Jacqueline Frost, Julie Chase, & Bree Baker): Apple Cider Shop Mystery Series – Winnie Montgomery and her grandmother own an apple orchard in West Virginia.