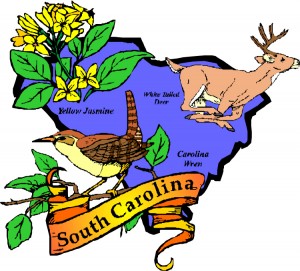 Here are some fun South Carolina facts:
The capital & largest city is Columbia.
State motto is "While I breathe, I hope" ("Dum Spiro Spero")
State flower is the Yellow Jessamine.
State bird is the Carolina Wren.
Origin of the South Carolina's Name: In honor of England's Charles I.
State nickname is Palmetto State. (This is because the American fort on Sullivan Island's walls were made out of Palmetto logs, which helped to protect the fort when the British cannonballs ricocheted off of the spongy Palmetto logs.)
Mystery authors who are found on the Cozy Mystery Site who feature south Carolina locations/settings in their books:
Susan M. Boyer: Liz Talbot Mystery Series
Elizabeth Lynn Casey (aka Laura Bradford): Southern Sewing Circle Mystery Series
Laura Childs: Theodosia Browning Tea Shop Mystery Series
Caroline Cousins: Indigo Island Mystery Series
Nora DeLoach: Mama Detective Mystery Series
Carolyn Hart: Death on Demand Mystery Series AND Henrie O Mystery Series
Sean Keefer: Stand Alone Mystery: The Trust
Joyce & Jim Lavene: Renaissance Faire Mystery Series
Kendel Lynn: Elliott Lisbon Mystery Series
Tyora Moody: Eugeena Patterson Mystery Series
Tamar Myers: Den of Antiquity Mystery Series
Gail Oust: Bunco Babes Mystery Series
Cathy Pickens: Southern Fried Mystery Series
Fran Rizer: Callie Parrish Mystery Series
Paige Shelton: Farmers' Market Mystery Series
Kathryn R. Wall: Bay Tanner Mystery Series
Please feel free to comment if you see an author from the Cozy Mystery Site who belongs on this list, or if you have any corrections.
♦To access more Cozy Mysteries by Theme click on this link.♦