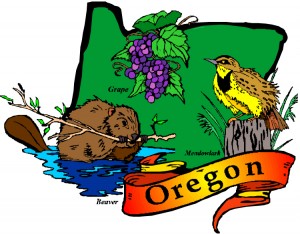 Here are some Fun Oregon Facts:
Oregon could mean hurricane – from the French word "Ouragan"
Salem is the capital, but Portland is the largest city
State Motto: There are actually two: "She Flies with Her Own Wings" & "The Union"
State Flower: Oregon Grape
State Animal: American Beaver
Oregon is the only state to have a flag with different designs on both sides. (The state emblem in 1859 on one side, their state animal on the other side.)
Oregon is the state with the most ghost towns.
Mystery authors who are found on the Cozy Mystery Site who feature Oregon locations/settings in their books:
Ellie Alexander: Bakeshop Mystery Series
K.K. Beck: Iris Cooper & Jack Clancy Mystery Series
Nancy Bush: Jane Kelly Mystery Series
B.B. Cantwell: Portland Bookmobile Mystery Series
Kate Dyer-Seeley (aka Ellie Alexander): Pacific Northwest Mystery Series
Christy Evans: Georgiana Neverall Mystery Series
Mary Freeman: Gardening Mystery Series
April Henry: Claire Montrose Mystery Series
Amanda Lee (aka Gayle Trent): Embroidery Mystery Series
Kaye Morgan: Sudoku Mystery Series
Carolyn J. Rose: Devil's Harbor Mystery Series
Patricia H. Rushford: Helen Bradley Mystery Series
Susan Sleeman: Garden Gate Mystery Series
Please feel free to comment if you see an author from the Cozy Mystery Site who belongs on this list, or if you have any corrections.
♦To access more Cozy Mysteries by Theme click on this link.♦