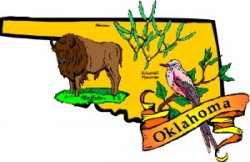 Here are some fun Oklahoma facts:
The largest city and capital is Oklahoma City.
State motto is "Labor Conquers All Things."
State nickname is the Sooner State.
State flower is the Mistletoe.
State bird is the Scissor-Tailed Flycatcher.
State animal is the buffalo.
In 1935, the first (USA) parking meter was installed in Oklahoma City.
State song is Rodgers & Hammerstein's "Oklahoma!"
Mystery authors who are found on the Cozy Mystery Site who feature Oklahoma locations in their books:
Susan Rogers Cooper: Milt Kovak Mystery Series – Milt is a sheriff.
Connie Feddersen: Amanda Hazard Mystery Series – Amanda is a CPA.
Jean Hager: Molly Bearpaw Mystery Series – Molly is a Cherokee Nation advocate.
Jean Hager: Mitch Bushyhead Mystery Series – Mitch is the chief of police.
Carolyn Hart: Nela Farley Mystery Series – Nela is a reporter in this paranormal series.
Carolyn Hart: Bailey Ruth Ghost Mystery Series – Bailey is a member of Heaven's Department of Good Intentions.
Marion Moore Hill: Scrappy Librarian Mystery Series –  Juanita (a librarian) and her collie/mongrel dog, Mills.
Blanche Day Manos & Barbara Burgess: Darcy/Flora Mystery Series – This series features a mom and daughter sleuths.
Eve K. Sandstrom (aka JoAnna Carl): (Nell) Matthews/Svenson Mystery Series – Nell is a reporter and Mike is a police detective.
Eve K. Sandstrom (aka JoAnna Carl): Down Home Mystery Series – Sam is the sheriff, and his wife, Nicky, is a photographer.
Please feel free to comment if you see an author from the Cozy Mystery Site who belongs on this list, or if you have any corrections.
♦I have lots and lots of Cozy Mystery Themes, which you can access by clicking on this link: Cozy Mysteries by Theme page. It will take you directly to that page on my site.♦