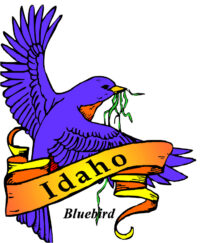 Here are some Idaho facts:
The capital and the largest city is Boise.
State motto is "Esto perpetua" (It is forever).
State nickname is the Gem State.
State flower is the Mock Orange.
State bird is the Mountain Bluebird.
You can look at four different state from one of Idaho's highest mountain ranges called Seven Devil's Peaks. The particular area is called the Heaven's Gate Lookout.
Mystery authors who are found on the Cozy Mystery Site who feature Idaho locations/settings in their books:
Lynn Cahoon: Farm-to-Fork Mystery Series – Angie Turneris the owner of a farm-to-table restaurant in Idaho.