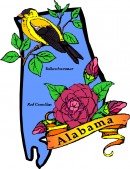 Here are some fun Alabama facts:
The capital is Montgomery.
The largest city is Birmingham.
State motto is "We Dare Defend OurRights" ("Audemus jura nostra defendere")
State nicknames are Heart of Dixie, and also Yellowhammer State.
State flower is the Camellia.
State bird is the Yellowhammer.
Mystery authors who are found on the Cozy Mystery Site who feature Alabama locations/settings in their books:
Susan Wittig Albert: Darling Dahlias Mystery Series
Heather Blake (aka Heather Webber): Magic Potion Mysteries
Erika Chase: Ashton Corners Book Club Mystery Series
J.J. Cook (aka Joyce and Jim Lavene & Ellie Grant): Biscuit Bowl Food Truck Mystery Series
Anne George: Southern Sisters Mystery Series
Carolyn Haines: Pluto's Snitch Mystery Series
Kelly Lane: Olive Grove Mystery Series
Gilbert Morris: Jacques & Cleo, Cat Detectives Mystery Series
Mary Saums: Thistle & Twigg Mystery Series
Please feel free to comment if you see an author from the Cozy Mystery Site who belongs on this list, or if you have any corrections.
♦To access more Cozy Mysteries by Theme click on this link.♦