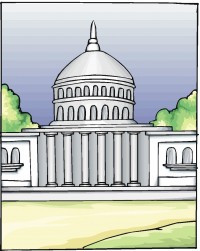 I've been busy doing the wash, getting the house tidied up, stocking the freezer, in short, getting ready to head out to New Orleans, followed by Washington D.C. I know stocking the freezer sounds like an odd thing to do right before you head out on a trip, but that's because our son will be here taking care of our house while we are gone. So the freezer being full is just what a mom does!
We had planned on going last month, but my husband became ill, so we postponed our trip. We had wanted to get this "apartment fact-finding trip to D.C." done before the capitol gets too over-crowded with families taking their vacations. (And also to avoid the D.C. summer humid heat!)
This time, however, we won't be flying. We'll be driving to New Orleans to visit our daughter for a few days, and then heading out east. We have some things we want to deliver to her so that she can take them with her to D.C., since this will be her permanent place of residence. (For the last three years she has been in one-year clerkships.)
She has finally zeroed in on the areas she wants us to focus on, with a few apartment buildings in each of those areas. Hopefully we will find a few that are perfect, rather than have to look at all 26 complexes. They are located in different communities, in and around D.C.
Well, so much for my break. I've got to get back to my wash. I won't be doing a whole lot of Cozy Mystery reading today!