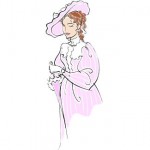 Last month, Fran wrote and asked for help finding the following author and/or mystery book series:
"A while back I read a couple of books that I'd like to find again. The books were set in San Francisco and were in the late 1800s or early 1900. The main character was a woman who had trained as an attorney and was trying to make it in the male dominated world of law – against her parents' wishes.
Can you help?
Fran"
If you think you might know who the author of this series is, or the name of the mystery series, please post a comment. Thank you!