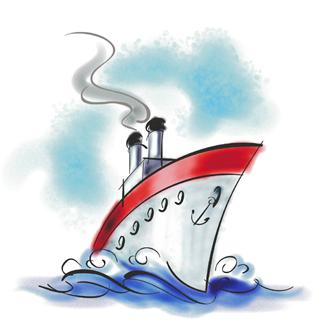 OK, I know this is a little early, but here is the book/author who I will be recommending for my February 2014 Cozy Mystery Book Recommendation. I am enjoying my current mystery so much that I just have to tell you about it now.
I'm currently reading the first mystery in Conrad Allen's (aka Edward Marston & Keith Miles) Dillman Mystery Series. The first book in the series is Murder on the Lusitania. We are introduced to George Porter Dillman, the main sleuth in this series. He hails from a family of yacht builders, but has decided on a different career path. He is a detective on a ship, which, from the titles of Allen's books must change to different ships in the line's fleet.
The series takes place in the very early 1900s, so it's not a "cruise" ship as they are known today. This ship is the mode of transportation for people going from Europe to North America. Don't expect the "Las Vegas glitzy shows" or the many planned activities that one might expect on a cruise ship today. A major source of fun is walking on the decks, and socializing with others before, during, and after each meal.
So, is this a Cozy Mystery? I am 63% through this book, and I would say that I definitely would call it a Cozy Mystery. Hmmm, you may say. How can you do that? The main sleuth is currently a detective (after being a Pinkerton agent for a while) >>> not an amateur detective. My answer is this: Let's not lose sight of Hercule Poirot, a police-trained detective, who is among the Coziest of Cozies.
This mystery (as I said I've only read 63% of it) takes place on a cruise ship, where everyone seems to become familiar with each other. It's like a small, contained "village" – so to speak. Allen has been able to make the characters into a small community of sorts.
While reading this Conrad Allen mystery, I have been struck several times by how much it reminds me of an Agatha Christie mystery. It is well written; the words seem to flow seamlessly.  The writing is crisp. Allen doesn't make the reader wait to get answers. He actually moves from one puzzle piece to the next. (I get quite annoyed by authors who make you wait two or three chapters to get an answer to a question that has been posed!)
The characters, of which there are quite a few, are very well-developed. They are "identifiable" >>> I didn't find myself having to scan back to try to remember who is who. I think that's pretty significant, because to me, when I can "remember" a character, it's like that character has been fleshed out and has become a person, rather than a "character." (I sure hope that makes sense!) Allen treats us to a few quirky people amongst the "normal" ones.
Also, (again based on the first 63% of the first mystery in the series) there has been no gratuitous/superfluous violence/sex/profanity. (That's a lot of "/"!) This is not to say that there isn't implied violence/sex/profanity. Allen gets his point across when he tells one character to "lock the door" to another. A lot of us can get the drift as to what is going to be happening behind those locked doors.) Also, when the "bad guy/gal" (No spoilers here!) is hit several times and stabbed, we don't actually need a blow-by-blow description of all of his/her injuries, do we? Also, Allen mentions when one of his characters uses "expletives" without us having to hear (read) them.
I would not have found Conrad Allen's Dillman Mystery Series if some of you Cozy Mystery readers hadn't mentioned him. I thank you! I get so very excited when I find a new-to-me author who I can add to my list of favorite authors. Thank you, thank you, thank you!
If you're interested in reading more of these brief revisits of some of the more popular Cozy Mystery Series that I've written in the past, you can find them at the Most Recommended Cozy Mystery Series page on my site.