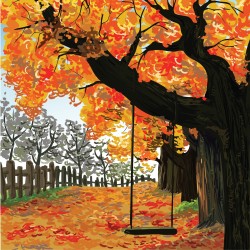 We're back in San Antonio. As I wrote about previously, my husband and I drove our daughter's car out to Washington, D.C. over the Thanksgiving holiday. She's happy to have her car, and we're happy that we were able to see her >>> although too briefly!
We took our time driving out, which we find is a lot of fun now that we don't have two young children in the back seat asking about the estimated time of arrival, or the estimated time of our next food break, or worse yet, the estimated time of our next restroom break.
Since we took our time driving out, we visited places along the way that look interesting to us. I'll mention one of these places, for those of you who may have a chance to visit Durham, North Carolina. If you live in Durham, no doubt you already not only know of, but have visited the Sarah P. Duke Gardens. The gardens are 55 acres of natural beauty. This is a place that should not be missed!
Since our daughter only got Thanksgiving day off, my husband and I were able to take it easy (which we like).
The only downside to the trip was that just after I got back I caught a pretty bad cold (probably from all the people who were coughing on the plane). Sure does make flying seem not so attractive.
Even though we just got home, I'm planning on going back out in late March for the Cherry Blossoms and am already looking forward to that trip!