This afternoon I mentioned (in a comment) that my husband recently retired a little earlier than we had planned. The last (+/-) five years have brought on a few new "conditions" which are the impetus to his "early" retirement.
I know that I have recently written about a few hospital stays he has had. These hospitalizations played a large part in our decision. I kept telling him that I thought it was time for him to "take it easy"… although, in his case, it will just be "a little easier">>> He's not a "take it easy" type of guy.
These last two weeks (he started his retirement at the beginning of April) have been a time of adjustment for both of us. I am trying to get him to sleep in longer, but after so many years of 6:00 am wake-ups, he considers 8:30 to be late. Also, since I used to get up right after he left, I no longer have my early morning routine going by 7:00 am. I am finding that if I have errands or shopping to do, I don't even get out the house until at least 10:30.
It is really nice having him home. However, it is a little "different">>> I'm used to coming and going whenever I want. I mean, I used to say goodbye to Sprite, but now I actually have a dialogue before I leave the house. I don't simply pat my husband's head in the kitchen and assure him "I'll be back soon." as I walk out the door. Unlike Sprite, he actually talks back!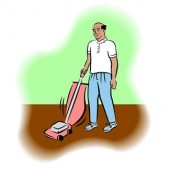 Luckily, he has a lot of interests, so I won't need to entertain him. I have mentioned that it would be nice if we could do more things together… like clean the house. He actually said he would vacuum the house IF we get a self-propelled vacuum – which is currently at the top of my Wish List. (Of course, I do wonder how I was able to run our vacuum for so many years without even knowing there was such a thing as "self-propelled" vacuums.)
I'm glad he's home. I just wish I could get him to sleep in longer AND take it a little easier.