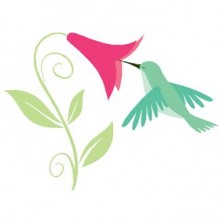 (I should warn you that this entry has nothing to do with Cozy Mysteries. )
Those of you who have been with me for a while might remember that my computer desk used to be upstairs. When our 16+ year old puppy (Sprite) got to an age where she could no longer maneuver the steps, I had my husband and son bring my computer downstairs and put it in our guest bedroom. Sprite could no longer jump onto the beds, but she did enjoy laying on them. She had spent her entire life following me everywhere, so I decided that it would be nice for her to be able to lay on the spare bed >>> right by my computer chair. Sprite seemed to enjoy being a girl of leisure while still being able to keep an eye on me.
After Sprite left us, rather than move my computer upstairs again I had them move my computer out to the kitchen. (It sure is more convenient on clothes-washing day!) But for some incredible reason I had them place my computer toward the wall. I thought it would look awkward/clumsy to have it in front of one of the windows. So, every time I wanted to look outside I would have to turn 125°.
It took me a while, but I finally wised-up and had them move my computer in front of the window, so I can enjoy the back yard: watching the birds jostling for the most advantageous perches at the feeders and also watching as the squirrels jumped up on the large bird bath. We even had outdoor cats using our bird bath. It was a lot of fun.
Until…
We had a squirrel chew a hole into our roof and take up residence in our attic. Thank goodness it was a male squirrel, as having a nest up there would have been awful. Apparently his "apartment" was between the walls, since he didn't venture into the rest of the attic. It was time to get all of our yard's squirrels to pack up and move to other areas in our neighborhood. I got rid of the big seed bird feeders and changed to the little feeders with tiny little thistle seeds for the Goldfinches. I missed having the bigger birds in our yard when we changed to the Goldfinch seeds, however we soon found that we couldn't even have those types of feeders. Those pesky squirrels loved scrounging around on the ground for the thistle that the Goldfinches had dropped. In the mean time, we had our fourth repair done to our roof that those doggone squirrels caused.
Now I have a Hummingbird feeder that I enjoy watching during the months they're in town, and a hanging bird bath, which the squirrels don't have access to. I feel like a real mean-y but enough is enough! I would love to be able to have the birds back in the yard, but we simply can't have any more squirrels. They do too much damage to our house.
Do you have any visiting outdoor animals >>> either the good kind like little hummingbirds or the bad kind like squirrels who chew through your wooden walls? If you had a problem animal, how did you solve your problem?