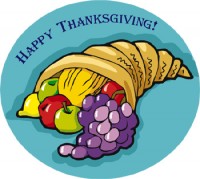 Happy Thanksgiving to all of you! I hope it's a Cozy one…
Since our daughter isn't coming home this year, I opted out of the traditional spending-all-day-in-the-kitchen meal. I am now feeling a little guilty about that decision, but neither my husband or son are complaining.
Three days ago (Monday) I saw my first fresh-cut Christmas tree on someone's car, a great reminder of what a lot of people will be doing this coming weekend! (As I get older, I don't feel the rush to get the house decorated so soon)… My gosh, I'm becoming a slacker! No turkey today, and our Christmas tree won't be up by this Sunday at 11:59 PM.
Happy Thanksgiving to all of those who live in the States, and happy reading to all of you!