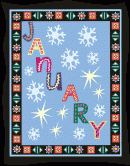 Today is my daughter's birthday, and she spent it traveling back to school! Happy Birthday!!! I am so very happy that you are in my life!
This morning started rather early for all of us (4:00 AM), as we had to get our daughter to the airport for an early morning flight. Her Christmas vacation was absolutely, without a doubt, TOO SHORT!
The five of us (son, daughter, husband, me… and Sprite) had a great holiday, but it's time to get back to work! My husband and son continued working during the past two weeks, taking a few days off here and there, and of course, my daughter took advantage of being home from school. As for me, I spent a very nice two weeks enjoying having our family all together again. But it's now time for all of us to get back on our regular schedules. (Actually, Sprite really didn't deviate from her regular routine: sleep, eat, and then sleep some more!)
My husband and I always enjoy hearing from our daughter, but whenever she (finally!) calls us from her own place at school… after changing planes, taking the "T" (bus/train), and then walking from the "T" stop while carrying her two carry-ons, we are always VERY relieved.
But, to be doing all of this on your birthday, well… I am guessing that she didn't wish for this sort of day while she blew out the candles on her "pretend" birthday a few days ago, but I know I have always wished that she be happy and safe… So, at least one of our wishes came true!