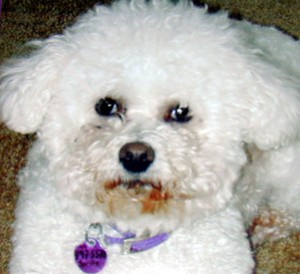 Sixteen and a half years ago, my parents came for their yearly vacation – accompanied (as usual) by my father's Cocker Spaniel. We all loved Aspen, except my daughter was quite hesitant about him. She would try to pet him, but was always on-guard… quite literally! She had always had a… should I say "hesitancy" when it came to dogs. She had never been hurt by a dog, she simply didn't feel comfortable when they were around. She always HAD to know exactly where they were.
My father felt sorry that she was missing out on the childhood fun of enjoying a family pet. He absolutely NEVER offered any constructive parent-rearing tips or corrections, except to tell us that he thought we should add a family dog to our family, so that our daughter could become comfortable around dogs.
We actually added Sprite to our family on one of his trips to visit us… and I can tell you that Aspen was not delighted with having to compete with this little, white fur-ball we had brought into HIS vacation domain. Sprite thought Aspen was the greatest, and wouldn't leave him alone… even when he let her know he did not appreciate her little razor-sharp puppy teeth excitedly nipping at his big, floppy ears.
That was sixteen and a half years ago, and I can tell you that Sprite has been the center of all of our universes since that day. Aspen had to make due with staying in Colorado Springs for the rest of the times my dad visited us, which I know was a hardship on my dad, as he loved that dog a whole lot.
Over this past weekend, we had to say our final good byes to Sprite, which is why I haven't been on the computer these past few days. Because she was not able to go up and down the stairs, or jump on furniture the last few years, I literally took her with me from room to room, always having her by my side or on the couch or bed while I did housework. She was a comfort to me when both of my children moved to college, and has remained a very close "best girl puppy" to me since then.
I have tried to work at the computer since we said good bye to Sprite, but I keep looking over to the bed, where she has been my constant companion while I am at the computer for the last few years. I know I wrote about us having to bring my computer desk downstairs so that she would be comfortable on the guest bed while I worked on the computer. It is very difficult for me to sit at the computer without her on the bed.
I am home alone much of the day. I talked to her literally all day long, and find the house so VERY quiet now…