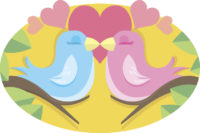 I know I've been really slow about posting your comments and "talking" to you recently, but I have the absolutely best reason: my daughter and her fiancé just had a destination wedding in Key Biscayne, Florida. (They both live in the D. C. area.) My husband, son, and I flew down to the Miami area a few days ago and we couldn't be more elated.
We had a rather whirlwind list of events to accomplish before the newlyweds headed off to Italy for their honeymoon. The wedding was for immediate family only – so it wasn't too hectic.
Not only are we delighted about our daughter's husband, but we're also very happy about his parents. His mom and dad live in the D. C. area – so they have become our daughter's "close by" family. We're sorry we live so far from the D.C. area – but we're happy she now has family right there.
The weather cooperated. Even though it was about as hot as San Antonio, the low humidity level and the coastal breeze made the wedding on the beach perfect.
It's good to be home – and back to our familiar routine but I will miss seeing our daughter. However, cell phones sure make the distance a lot more palatable. I remember when we had to pay by the minute to talk to loved ones with all sorts of restrictions: weekends, time zones, roaming areas, etc. It always seemed to me that as soon as my parents answered the phone, my father would start saying: "OK, we've talked long enough… this is costing by the minute."
Anyway – we're back in San Antonio so hopefully I'll get back to your comments a little quicker… "hopefully"…