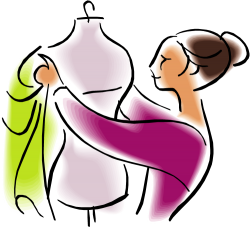 I have added a few Cozy Mystery authors to the site who have fashionista sleuths. Last week, when I went to add one of them to my fashion theme, I realized I didn't have one! I had a tentative fashion theme going, but I hadn't finalized it for the site yet. I finally did that today. So, here goes:
Fashion theme in Cozy Mystery Books
Victoria Abbott (Mary Jane Maffini & Victoria Maffini): Book Collector Mystery Series – Jordan Kelly loves wearing vintage clothes..
Juliet Blackwell (aka Hailey Lind): Witchcraft Mystery Series – Lily Ivory owns a vintage clothing shop in San Francisco
Annette Blair: Vintage Magic Mystery Series – Madeira Cutler has renovated an old funeral home into her vintage clothing store.
Melissa Bourbon (aka Misa Ramirez): Magical Dressmaking Mystery Series – Harlow Cassidy is a fashion designer who owns her own boutique in Texas.
Sandra Bretting: Missy DuBois Mystery Series – Missy designs hats and sells them in her shop.
Duffy Brown: Consignment Shop Mystery Series – Reagan Summerside is the owner of the Prissy Fox Consignment Shop in Savannah, Georgia.
Ellen Byerrum: Crime of Fashion Mystery Series – Lacey Smithsonina is a fashion columnist.
Grace Carroll (aka Carol Culver): Accessories Mystery Series – Rita Jewel is a salesperson at a high-end San Francisco boutique.
Elizabeth Lynn Casey (aka Laura Bradford): Southern Sewing Circle Mysteries – Tori Sinclair is a librarian in South Carolina and she is also a member of a sewing circle.
Cassandra Chan: Village Affairs – A high-fashion shoot is one of the settings in this mystery.
Jane K. Cleland: Deadly Threads – Josie Prescott is teaching a class on vintage clothing at her New Hampshire antiques shop.
Barbara Jean Coast: Poppy Cove Mystery Series – Daphne and Margot own a dress shop called Poppy Cove.
Sophie Dunbar: Fashion Victims – Frank and Ava Bernstein find themselves in the middle of a murder investigation at a Hollywood fashion show.
Elizabeth J. Duncan: Shakespeare in the Catskills Mystery Series – Charlotte Fairfax is a costume designer in New York.
Kathy Lynn Emerson (aka Kaitlyn Dunnett): Murder in the Queen's Wardrobe – Rosamund Jaffrey is a Lady in Waiting for Queen Elizabeth (not the current queen, but her  16th century namesake) and she's also the queen's spy.
Dorothy Gilman: Mrs. Pollifax Mystery Series – This series isn't about fashion, rather the senior citizen and spy, Mrs. Pollifax >>> who is most comfortable when sporting a big hat!
Chloe Green: Dallas O'Connor Mystery Series – Dallas O'Connor is a fashion stylist in Texas.
Gemma Halliday: High Heels Mystery Series – Maddie Springer is a shoe designer sleuth.
Sadie Hartwell (aka Susannah Hardy): Tangled Web Mystery Series – Josie Blair is a former fashion designer.
Dorothy Howell: Haley Randolph Mystery Series – California sleuth Haley simply can't get enough handbags!
Susan Kandel: CeCe Caruso Mystery Series – CeCe is a biographer of detective mystery writers who is really into vintage clothes.
Kylie Logan (aka Miranda Bliss & Casey Daniels): Button Box Mystery Series – Josie Giancola is a vintage & antique button expert who owns a vintage button shop in Chicago.
Meg London (aka Peg Cochran): Sweet Nothings Vintage Lingerie Mystery Series – Emma Taylor is a stylist in Paris … Tennessee.
Nancy Martin: Blackbird Sisters Mystery Series – Nora loves (and wears) her grandmother's extensive collection of haute couture.
Rosemary Martin (aka Rosemary Stevens): Murder A-Go-Go Mystery Series – Bebe Bennett works at a modeling agency as a secretary in New York. With a series title like this one, I'll let you guess the decade!
Judi McCoy: Fashion Faux Paw – Ellie Engleman and her Yorkie (Rudy) have to find out who supplied the peanuts at New York's Fashion Week's model-with-dog fashion show.
Jenn McKinlay (aka Josie Belle  & Lucy Lawrence): Hat Shop Mystery Series – Floridian Scarlett Parker and her British cousin (Viv Tremont) inherit their grandmother's hat shop in London.
Kate Parker: Milliner Mystery Series – Emily Gates is the milliner sleuth who has to resort to robbing her clients who won't pay for their hats – during the early 1900s in London.
Rose Pressey: Haunted Vintage Mystery Series – Cookie Chanel owns It's Vintage Y'All, a vintage clothing store in Sugar Creek, Georgia.
S.J. Rozan: Mandarin Plaid – Lydia Chin is on the search for a fashion designer's design book with designs that are worth a lot of money.
Sofie Ryan (aka Sofie Kelly): Second Chance Cat Mystery Series – Sarah's best friend owns the Second Chance second-hand shop that carries vintage clothes.
Angela M. Sanders: Vintage Clothing Mystery Series – Joanna Hayworth owns a vintage clothing store in Portland.
Rosemary Stevens (aka Rosemary Martin): Beau Brummell Mystery Series – Beau Brummell is a Regency era (1790 – 1820) fashion expert in London.
Fran Stewart: ScotShop Mystery Series – Peggy Winn sells Scottish kilts and describes the different plaids of the clans.
Susan Sundwall: Minnie Markwood Mystery Series – Minnie's sidekick Rashawna is a fashonista.
Kari Lee Townsend: Mind Reader Mystery Series – Kalli Ballas has the ability to read minds. She is a fashion designing sleuth.
Diane Vallere: Material Witness Mystery Series – Poly (as in Polyester)  is a dress designer at her family's California store.
Diane Vallere: Mad for Mod Mystery Series – Madison Night is an interior decorator whose clothes are items you could have found in Doris Day's closet during the Doris Day/Rock Hudson days.
Diane Vallere: Style & Error Mystery Series – Samantha Kidd used to be a fashion buyer.
Elaine Viets: Mystery Shopper Mystery Series – Josie Marcus is a plain clothes detective who goes to a wide range of stores, from high-end fashion boutiques to pet stores.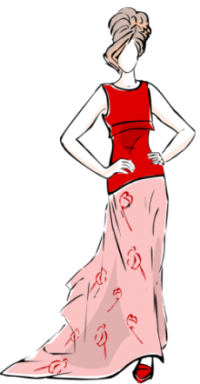 I hope you stop by the theme page on my site. With all of the themes I have (and I have lots!), I'm pretty certain you can find a few you're interested in. Here's the Cozy Mysteries by Theme page on my site. Just click on the link and it will take you to it.
If you know of any other Cozy Mystery series that have a fashion theme, please post a comment so I can include it/them on the list. Thank you!