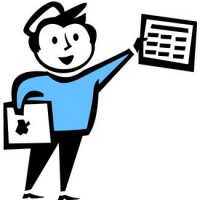 I am VERY FORTUNATE to receive updates from Sisters in Crime! The updates that I get are extremely informative, and I absolutely love getting them. (Thank you!)
I have so much Cozy Mystery news to tell you about that I am cutting it in half. But first, I want to remind you that in the Cozy Mystery reading world, we can't always be sure that our favorite authors are "allowed" to release another Cozy Mystery book in a series.
For those of you who are Kathy Lynn Emerson/Kaitlyn Dunnett fans, this news is really good! Kathy Lynn Emerson has a new mystery series coming out in the (possibly very near) future. I'm not sure when, but she just got the go-ahead for an historical mystery series, which, like her historical Lady Susanna Appleton Mystery Series, is set during Queen Elizabeth's reign. Murder in the Queen's Wardrobe is the name of the first of these Elizabethan mysteries. This time, a young woman becomes a spy for Queen Elizabeth. Didn't I tell you this would be good news?
Now for the Lizbeth Lipperman (aka Liz Lipperman) fans, the green light for her 3rd Dead Sister Talking Mystery Series book is shining brightly! We'll be seeing more of Lainey and Tessa Garcia!
As if there was any question about this next tidbit of information! New York Times bestselling author of the Cat in the Stacks Mystery Series, Miranda James (aka Dean James), has a three book deal. This way we'll be able to keep up with Charlie and Diesel for quite a while, and hopefully, after the next three mysteries, there will be lots more!
Here's some great news for Clea Simon's Dulcie Schwartz Mystery Series fans! You can relax now… books #9 and #10 have been green-lighted! Mr. Grey must be happy about this!
Oh Boy! In case no one knows this, Amanda Flower (aka Isabella Alan) will be starting her new Living History Museum Mystery Series some time soon. The first mystery in the series will be Brick and Bugles, and this time, her main sleuth solves a crime during the Civil War? Well not really during the Civil War, I should have typed during a Civil War reenactment.
Stay tuned! I'll be bringing you more Cozy Mystery News!