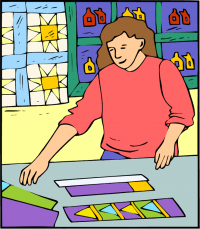 I just went through my "BLOG Entries" list, which is comprised of Cozy Mystery readers' questions and/or comments. I usually remember to delete the questions after I ask you all about them, but apparently, I don't always remember to do that!
Getting back to the purpose of my entry…
Sher submitted a comment about a month ago asking us if we could come up with a book's title. I wasn't familiar with it, nor was anyone else who read her comment. Hopefully one of you will know the book she's looking for!
I read a cozy about a lady who was involved in longarm quilting, murder mystery and the home she bought had hidden rooms. This was in 2013 that I read the book. Can anyone tell me who the writer might be and the book title. Sorry I can't recall the lady's name or where she was. I think it might have been mid west.
I'm sorry, Sher, but I don't even know what "longarm quilting" is! Hopefully, another Cozy Mystery reader will know the author or the book's title.
If you think you know the title of the book or its title, please post a comment. Thanks!