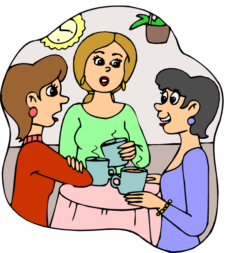 About a week ago, WJ made a comment right here on the blog that got me thinking about all of the Cozy villages/towns/communities that we have been introduced to by some of our favorite Cozy Mystery authors. WJ's comment referred to Leslie Meier's Lucy Stone mysteries setting. Here is WJ's comment:
I love her books and want to move to Tinkers Cove, Maine!!
So, naturally I started thinking about some of the Cozy Mystery fictional places seem (almost) real to me.  The characters have become like friends >>> no matter how long it has been since I was last with them, things go back as if no time has passed. The locations have taken on brick and mortar realities to me, so much so that when the characters in the Cozies talk about their shops or cafés (etc.), I feel like I have been in them, too!
I have a few Cozy Mystery places I would love to live in, with characters I would love to hang out with. Let's see, right off the top of my head I can think of four: Gerry Porter's Lincoln Point (by Margaret Grace), Hannah Swensen's Lake Eden (by Joanne Fluke), Jessica Fletcher's Cabot Cove (by Donald Bain & "Jessica Fletcher"), and Peggy Jean Turner's Cobb's Landing (by Kate Borden).
How about you? Are there any Cozy Mystery towns you would love to move to? (Without all the murders, of course!) If so, please post a comment with the town, series, and author. Thank you!