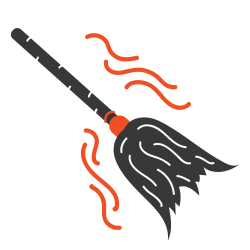 Update: Please see my "P.S." at the bottom of this post.
I received an email from Adele quite a while back that asked for help in identifying a Cozy Mystery Series.
Adele:
… trying to find a book that I read a few years back… The book is now long gone, but I would like to read more of this author. And silly me, of course I forgot to write down the author's name.

I think it was a cooking cozy mystery. I'm pretty sure it took place somewhere in Boston – New England in general, definitely not Georgia. There is magic involved as one of the characters kept trying to make the shop broomstick fly and eventually did and it chased the culprit down the street. The broomstick always comes back to the owner. The owner of the shop is the protagonist. I don't remember if it was a pie shop, muffin shop or bakery shop.

Thanks for any clue or hint you can give me.
I wonder if any of you know who Adele might be thinking of. Her description sounds vaguely familiar to me, but the Cozy Mystery series that keeps coming to my mind is Bailey Cates' Magical Bakery Mystery Series, and since it takes place in Georgia, it's definitely not the one Adele is looking for.
If you think you may know who Adele is looking for, please post a comment. Thanks!
P.S. I can't believe this! Ceelee Sunshine just pointed out that I actually did a question entry about this very same topic quite a while back! It turns out that the series is the Lizzy & Diesel Mystery Series by Janet Evanovich. (When I said "quite a while back" >>> I guess I really meant it! The earlier post is from 2013!)