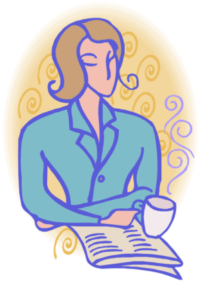 Well, I'm glad to tell you ALL about some Cozy Mystery behind-the-scenes news! Yes, it's yet another time when I get my "I-want-to-gossip" thing going! All of it's good, so I think it's OK to tell.
There's great news for those of us who want to know what's happening at Mel(inda)'s Bow Wow Boutique. Sparkle Abbey has been given the go-ahead for books nine and ten in her Pampered Pets Mystery Series.
Maddie Day (aka Edith Maxwell & Tace Baker) has just been given the go-ahead for three more Country Store mysteries! Robbie will have even more trouble to look into while trying to keep her Pans 'n Pancakes country store/diner running smoothly.
Vicki Delany's (aka Eva Gates) Sherlock Holmes Bookshop Mystery Series, which is releasing its first Cozy in March, has been given the green light for at least two more books in this series. How neat is that?
Next, let me tell you about Kaitlyn Dunnett (aka Kathy Lynn Emerson). She has gotten the green light for her 11th Liss MacCrimmon mystery.  And, not only will she be writing that very popular mystery series, but she will also be writing a new Cozy series. Dunnett's new series will feature an ex-English teacher who lives in the New York Catskill Mountains >>> who will start a new career as a book editor. (As Kathy Lynn Emerson she writes the Elizabethan Mystery Series, the Lady Susanna Appleton Mystery Series, and the Diana Spaulding Mystery Series.)
Most of you know that Dawn Eastman writes the popular Family Fortune Mystery Series. Here's some great news! Dawn Eastman will also be writing a new Cozy Mystery series that features a doctor in a small town.
And news for those of us who read Sally Goldenbaum's Seaside Knitters Mystery Series,  she has gotten a contract for three more books! We'll be seeing the first one (Murder Wears Mittens) of these three sometime in 2017 – making it the 12th book in this USA Today bestselling series.
If you're anything like me, you've been wondering how Jacobia ("Jake") from Sarah Graves's Home Repair is Homicide series is doing, since we haven't seen her since 2013. Well, we'll soon be able to read all about Jake and the new Chocolate Moose chocolate shop that some friends opened in Death by Chocolate Cherry Cheesecake. And the even better news is that this will be the first of at least three new books in this series!
And, Victoria Houston's Loon Fishing Mystery Series will welcome three more books to its queue: Dead Spider, Dead Firefly, and Dead Big Dawg. Looks like Lewellyn will be kept busy solving crimes!
It looks like Anna Lee Huber will be writing a new historical mystery series, along with her Lady Darby Mystery Series. This series will star a widow who teams up with a Secret Service agent to solve mysteries. The first book (An Endless Echo) will unite these two sleuths in order to solve some terrible accusations about her late husband being a WW I traitor. Yikes!
Now for some news for fans of Tonya Kappes's Kenni Lowry Mystery Series. As you know, Kappes has released only one book in this series so far, but there will be at least six more Kenni Lowry mysteries to look forward to!
I think I might have already told you about Kate Kingsbury (aka Rebecca Kent & Allison Kingsley) starting her Merry Ghost Inn Mystery Series this January. I think this news is so terrific that I want to be sure to let you know about it, in case I didn't already tell you!
Have you been wondering when Jess Lourey was going to finally tell us what happens during March? Well, March Madness is the title of  the 11th in Jess Lourey's Murder by Month Mystery Series. This time a life-sized doll may not be quite what it seems to be!
Nancy J. Parra (aka Nancy Coco) will be starting a new Cozy Mystery series which has a very unique sleuth. The sleuth will be a personal chef for Prince William and Duchess Kate. I'm not sure of the title of the series yet, but I do know that she will be writing the series as Nell Hampton, and the first book in the series is called (so far!) Kale to the Queen.
As they say: That's a wrap!