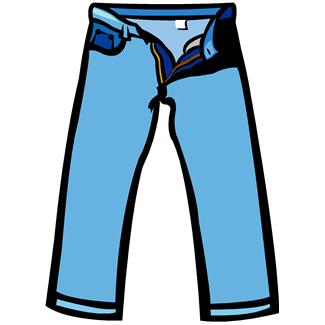 Warning: This is not about mysteries,  although it does involve a mystery of sorts.
Let me start by telling you that I am 5'9″ tall. Invariably when I find myself in a line (like at the grocery store) I am one of the tallest women. There may be a few others who are taller, but usually there aren't. I don't wear high heels EVER – I can usually be seen wearing my New Balance walking sneakers.
Given all that information, can you imagine why I now have to buy my black jeans in a "petite" length?!? Are there so many women these days who wear stilettos while wearing their jeans? (A mystery to me, sort of…)
This wouldn't annoy me if I hadn't just bought two pair of my regular brand jeans in my previous size >>> "medium" length.  I have been buying the same brand and cut jeans for years, so when I bought my two new "medium" jeans this time, I didn't bother to try them on. I quickly went home and washed them. That's how sure I was they would fit. Long story short: I am currently waiting for them to be taken up. They are quite long, actually very long. And of course with the price of the alterations, I no longer feel like they are the best jeans I can buy for the lowest price around.
OK! I feel much better now that I've gotten the rant part out of the way!
My husband pointed out that my "Rants & Raves" entries seem to only be the negative "Rant" portion. Yikes! He's right. Am I really that negative?!?
So it is at this time that I will finally do the "Rave" portion. (I may revert to just the "Rant" part, but I'll try to be a little more positive in the future.)
I know I have mentioned how much my husband and I like our Keurig coffee maker (from my These Are a Few of My Favorite Things… entry, and how I fill my Ekobrew refillable K-Cups with my favorite tea blends so that I don't have to keep paying the high prices for tea K-Cups.
My husband, however, insists on using the already made K-Cup coffee pods, which I find to be pretty expensive. I just found these San Francisco Bay K-Cups that my husband likes a lot. Even though they look different from the regular K-Cups, they fit and work perfectly in the K-Cup coffee maker, and are substantially cheaper. Since I had never seen these before, I thought those of you who might be interested in finding a cheaper alternative to the regular K-Cups might want to know about these. (My husband likes his coffee very strong, so he likes this particular blend – Fogchaser. As for me, I'm pretty sure I'd prefer the Breakfast Blend, which is always smoother to me.)
Mission accomplished! I managed to not just focus on the negative side of my "Rants & Raves". That doesn't mean I'm not still annoyed at having to alter my "medium" (in my opinion "tall") jeans!