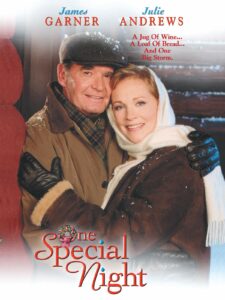 Ok, ok, I know that I should only "talk" about mystery books and mystery movies, however, this 1999 movie is one I remember seeing years ago. (I'm not sure if it was the year it was released or not…) Unfortunately, it is only available to Prime members. For those of you who aren't Prime members, I'm sorry…
In 1999 James Garner and Julie Andrews got together for the third time. The Turner Classic Movies channel has shown their 1964 movie The Americanization of Emily several times recently – which I DVR-ed, watched, and enjoyed (again!). The Turner Classic Movies channel has also shown their second endeavor together – the 1982 movie Victor/Victoria – which is another really good movie. The third time they worked together is in this very touching Thanksgiving/Christmas movie, One Special Night. (The action starts at Thanksgiving and goes on to Christmas.) One Special Night was a movie from a time when television channels were making movies that could be seen by everyone – quite unlike all of the movies that the different streaming channels are making now – for just their streaming customers.
One Special Night is based on Jan Hartman's play A Winter Visitor. Obviously, it is not based on a romance between two 20 or 30 year old characters. 
If you've seen it already, let us know what you think of One Special Night, and if you haven't seen it, try to watch it. I love this movie, and will probably watch it again – and possibly again…
P.S. I'm not "talking" about the plot since I don't want to give anything away…