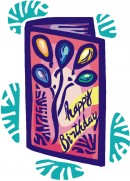 There are just a few more crafting cozy mystery series that I want to present, two of which are the Card Making Cozy Mystery Series and the Scrap Booking Cozy Mystery Series. It seems like our "real life" crafting trends make perfect background settings for some of our favorite cozy mystery series. Imagine Miss Marple without her knitting…. Well, now that scrap booking and card making have hit the local craft stores (big time!!!), I guess that it is no wonder that we have cozy mystery series that feature those arts.
Elizabeth Bright (aka Tim Myers) writes the Card Making Mystery Series that features Jennifer Shane, owner of Custom Card Creations. As Tim Myers, the same author writes the Candle Making Series, the Lighthouse Inn Series, and the Soap Making Mystery Series.
Mollie Cox Bryan pens the Cumberland Creek Mystery Series, which has a stay-at-home scrap booking mom as its sleuth.
Laura Childs writes the Scrap booking Mystery Series that revolves around Carmela Bertrand. Childs also writes the Theodosia Browning Charleston Tea Room Mystery Series.
Christina Freeburn writes the Faith Hunter Scrap This Mystery Series, starring the owner of a scrapbooking shop…
Lucy Lawrence (aka Jenn McKinlay) writes the  Decoupage Mystery Series…
Joanna Campbell Slan pens the Kiki Lowenstein Scrap-n-Craft Mystery Series…
Terri Thayer writes the Stamping Sisters Mystery Series …
***To access more Cozy Mysteries by Theme click on this link.***