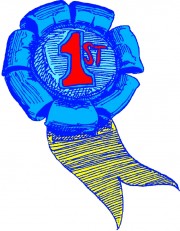 I got a letter from MJ with a great idea for a blog entry! It's a spin on something we do, but with a better focus. She says it better than I can, so here are some portions of her letter:
… How about the 'best FIRST in a series cozy by either a new author or an established author with a new series in the previous year?'…

Included in that selection might be – 'does it have potential to be a long running series and why?'  This would also have to be a 'series' book, not a stand alone.

I thought of this a couple of weeks ago as I read an excellent new 'first in series' book.  Then I read another which I thought was even better.  Yesterday I just started a third new book that looks like it has 'potential' – I can't decide that until I finish it, though.  I always put these books in my monthly recommendations.  But I thought it would be interesting and informative to blog readers if we singled out just one new series.   That will be tough for me to do, however, because I've read several good first books this past year!!!…
I love this idea, since we'll be able to see which of the new Cozy Mystery series that have recently been started look like real winners and will be around for a while.
So please tell us about the best first book in a Cozy Mystery series that you read that was published in 2014 or 2015. As usual, please tell us why you think this series has a great future, and please limit this to only the one best first Cozy in the new Cozy Mystery series.
Thank you!
Here are the Cozies you all have recommended so far:
Best 1st Cozy in a new (2014 or 2015) Cozy Mystery Series:
Ellery Adams: Murder in the Mystery Suite (Book Retreat Mystery Series)
Duffy Brown: Geared for the Grave (Cycle Path Mystery Series)
Leslie Budewitz: Assault and Pepper (Seattle Spice Shop Mystery Series)
Lynn Cahoon: Guidebook to Murder (Tourist Trap Mystery Series)
Maia Chance: Snow White Red-Handed (A Fairy Tale Fatal Mystery Series)
J.J. Cook (aka Joyce and Jim Lavene & Ellie Grant): Death on Eat Street (Biscuit Bowl Food Truck Mystery Series)
E.J. Copperman (aka Jeffrey Cohen): The Question of the Missing Head (Asperger's Mystery Series)
Laura DiSilverio (aka Ella Barrick & Lila Dare): The Readaholics and the Falcon Fiasco (Readaholics Book Club Mystery Series)
Eva Gates (aka Vicky Delany) By Book or By Crook (Lighthouse Library Mystery Series)
Sherry Harris: Tagged for Death (Sarah Winston Garage Sale Mystery Series)
Christine Husom: Snow Way Out (Snow Globe Shop Mystery Series)
Diane Kelly: Paw Enforcement (Paw Enforcement Mystery Series)
Mary Kennedy: Nightmares Can Be Murder (Dream Club Mystery Series)
Joyce and Jim Lavene (aka J.J. Cook & Ellie Grant): Spell Booked (Retired Witches Mystery Series)
T.C. LoTempio: Meow If It's Murder (Nick and Nora Mystery Series)
Terrie Farley Moran: Well Read, Then Dead (Read 'Em and Weep Mystery Series)
Julie Mulhern: The Deep End (Country Club Mystery Series)
Penny Pike (aka Penny Warner): Death of a Crabby Cook (Food Festival Mystery Series)
Rose Pressey: If You've Got It, Haunt It (Haunted Vintage Mystery Series)
Angela M. Saunders: The Lanvin Murders (Vintage Clothing Mystery Series)
Fran Stewart: A Wee Murder in My Shop (Scotshop Mystery Series)
***Please be sure to read the comments below to see why these first books in new Cozy Mystery series have been chosen to be the best.***