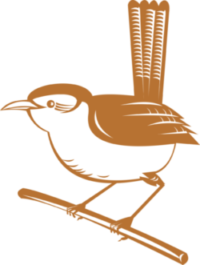 I wanted to write a quick note to say that I'm back home. My husband and I had a great time visiting our daughter and our old stomping grounds. We were very lucky with the weather on the days we were visiting, however, both driving out and coming home, there sure was a whole lot of rain!
When I got home I went out to see how my Geraniums were doing and was surprised to see that a pair of Benwick's Wrens have nested in one of my hanging pots. How neat is that? I bought a Wren birdhouse for their future home, but for now the pot will have to do. I guess it's a good thing that there is a drain hole in the bottom of the pot >>> since we have had an extraordinary amount of rain down here.
Oh, and one more thing, before I forget. James Patterson (I know he's not a Cozy author, however, he's a really good mystery author) will have a segment on tomorrow morning's CBS News Sunday Morning. Since I already DVR that particular show every week, I won't have to go set my machine, however, some of you may enjoy that segment.